Love these wipes!
I really like the softness and durability of these wipes. The container they come in is cool too!
Love the kit!
The container looks sleek on my counter and the wipes are easy to access with one hand. Love both the container and the new wipes!
Thank you for liking our wipes and design!
Great
Easy to use,nice container,environmentally terrific.Thanks!
LOVE the box - the wipes, sadly not so much...
Was so excited to have found 1) a great container for 2) safe multi-purpose home/body wipes but sadly the 4 containers of wipes (2 orders) came almost all dried out?! AND they are weirdly 'slippery' when I try to use them? Not sure I'll reorder...
Quality
I love the container, very sleek and nice. The wipes are amazing, at first they feel dry but they are just right for cleaning. These are my new wipes for sure.
EPA/Safer Choice recognition does not constitute endorsement of this product. The Safer Choice label signifies that the product's formula, as Solugen, Inc. has represented it to the EPA, contains ingredients with more positive human health and environmental characteristics than conventional products of the same type. EPA/Safer Choice relies solely on Solugen, Inc., its integrity and good faith, for information on the product's composition, ingredients, and attributes. EPA/Safer Choice has not independently identified, that is, via chemical analysis, the ingredients in the product formula, nor evaluated any of Solugen, Inc. non-ingredient claims. EPA/Safer Choice provides its evaluation only as to the product human health and environmental characteristics, as specified in the Safer Choice Standard and based on currently available information and scientific understanding.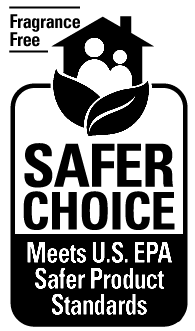 Safer Choice
Safer and effective for home use
Learn More

USDA Bio-Preferred
Certified 100% plant based

Cruelty-free
We never do animal testing